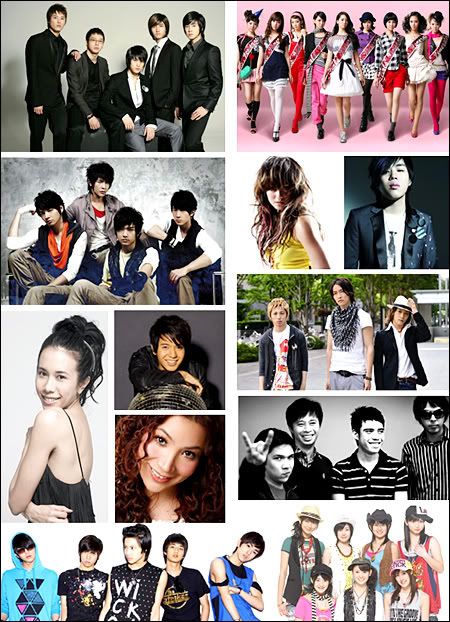 Asian pop stars, such as TVXQ, w-inds and Fahrenheit, will shine in Seoul as the Asia Song Festival celebrates its 5th anniversary.
The 5th Asia Song Festival promises to be bigger and better, with three days of events from Oct. 3-5 at the Seoul World Cup Stadium, Sangam, Seoul.
Organized by the Korea Foundation for International Cultural Exchange (KOFICE) and Seoul Metropolitan Government, the festival gathers 20 pop stars from 12 countries including Korea, China, Japan, Thailand, Vietnam and the Philippines on one stage.
The festival kicks off with a free concert featuring ``Best New Asian Artists'' Oct. 3 at the Peace Plaza at the Seoul World Cup Stadium. Performers include Korean boyband
SHINee
, Japanese girl group
Berryz Kobo
,
Yoga
from Taiwan,
Peck
from Thailand,
BX
from Mongolia,
Rynn Lim
from Malaysia and
Jocie Guo Mei Mei
from Singapore.
On Oct. 4, big-name pop stars
TVXQ
,
Fahrenheit
and
w-inds
will perform at the main concert of the Asia Song Festival. It will be held from 6 p.m. to 10 p.m. at the World Cup Stadium.
TVXQ is once again Korea's representative at the Asia Song Festival, having performed in three of the last four festivals. The five-member group, whose popularity is soaring around Asia, is preparing for the release of their fourth album this fall.
Fahrenheit is one of the hottest boy bands from Taiwan. The group, composed of Wu Chun, Jiro Wang, Calvin Chen and Aaron Yan, has had two chart-topping albums since 2006. Fahrenheit members, especially Chun, are extremely popular around Asia for their roles in Taiwanese dramas such as ``KO One," ``Romantic Princess,'' ``Hana Kimi'' and ``Tokyo Juliet.''
W-inds is one of the most popular J-pop groups around Asia, having performed in Taipei, Shanghai and Beijing. Members Ryohei Chiba, Keita Tachibana and Ryuichi Ogata visited Seoul in 2006, after being invited to perform at the Mnet KM Music Festival awards show.
Other performers at the festival include Korean girl group
Girls Generation
, Hong Kong star
Karen Mok
,
Anson Hu
from China,
Agnes Monica
from Indonesia,
Ho Quynh Huong
from Vietnam,
Ice
from Thailand and
Rivermaya
from the Philippines.
``This event will grow into one brand that represents cultural exchange and cooperation within Asia in the near future. The Asia Song Festival is perfect for fostering stronger global competitiveness in the music industry,'' said Shin Hyun-taik, chairman of KOFICE.
Organizers expect 10,000 people from other countries to attend the concert, up from 4,000 last year.
Aside from the two concerts, there will be an Asia Music Industry Leaders Forum with top Asian music and entertainment executives at the Seoul Hyatt Hotel. There is also an Asian Pop Music Outdoor Showcase Oct. 3-5 at the Peace Plaza.
The Asia Song Festival has been steadily gaining interest since it started in 2003. Past performers included top Asian stars such as BoA, F4, Ayumi Hamasaki, Kelly Chen, Leon Lai, A-Mei, and Arashi.
People wishing to attend can download ticket vouchers from the festival homepage www.asf.or.kr (Korean only). The voucher will be exchanged for an actual ticket on the day of the concert, with picture ID verification.

Foreign nationals can apply for tickets by sending an e-mail to [email protected] by Sept. 12. The e-mail should include name, nationality, passport number, contact information, e-mail address and date of birth. It should be written in English, Chinese or Japanese.
The Seoul World Cup Stadium is located near World Cup Stadium Station Subway Line 6. For information, visit www.asf.or.kr.
[email protected]
********
no BoA this year either? >.<
at least she's going to Shanghai for the SM Live concert, but that means SNSD, Shinee, DBSK will be quite busy...
Edited by whatta-chan, 29 August 2008 - 03:39 PM.