http://omg.yahoo.com...e-photos/711?nc
Beyonce Under Fire for Blackface Photos
posted by Erin Carlson - Tue Feb 22 2011, 3:37 PM PST
Beyonce graces the March issue of L'Officiel Paris, but it's a controversial photo of the superstar inside the French fashion magazine that's getting the most attention.
The glossy is celebrating its 90th anniversary, and Beyonce marks the occasion with an homage to Nigerian musician and humanitarian Fela Kuti; Beyonce's husband, Jay-Z, is a producer on the acclaimed Broadway musical "Fela!," based on the icon's life, music and courageous defiance against government corruption. In a statement (via Jezebel), L'Officiel describes the Feli-inspired photo of Beyonce -- sporting blackface, tribal paint and a dress designed by her mom -- as a "return to her African roots, as you can see on the picture, on which her face was voluntarily darkened."
Not everyone is a fan of the editorial vision and tribute to Kuti; the image simultaneously inspires and provokes. Writes Jezebel's Dodai Stewart: "It's fun to play with fashion and makeup, and fashion has a history of provocation and pushing boundaries. But when you paint your face darker in order to look more 'African,' aren't you reducing an entire continent, full of different nations, tribes, cultures and histories, into one brown color?"
"It's one thing to feel moved by Fela Kuti, and quite another to treat blackness as a fashion accessory, like a pair of glittery heels you put on because it looks cool," Stewart adds.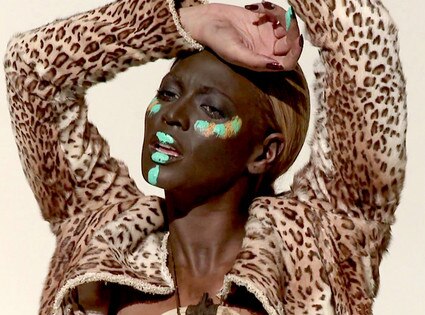 Charing Ball, a writer at the Atlanta Post, blasts the fashion industry's recent obsession with blackface as an accepted form of racism passed off as art. "Blackface is not fashion forward or edgy and, in my opinion, it is just flat-out offensive," writes Ball, incriminating Beyonce in perpetuating the offense.
Blackface has been particularly trendy among European fashion titles; in October 2009, French Vogue featured a white model in blackface a year after the Italian edition of Vogue ran a much-hyped issue with all-black models as a response to the lack of diversity within the industry.
Meanwhile, Beyonce and other black stars have had their skin lightened on the cover of glossy women's mags and in advertisements; see Beyonce's 2008 L'Oreal ad compared with a real photo of the singer. See also: Actress Gabby Sidibe's 2010 Elle magazine cover wherein her dark skin appeared several tones lighter.
"The message we're getting from the fashionistas," Stewart writes, "is that it's bad to actually have dark skin, but totally cool to pretend you have it."
Beyonce will no doubt maintain a diplomatic stance on the photoshoot. But, for once -- for once! -- it would be refreshing to hear her speak her mind and have a stance on something beyond her music.