By now, everyone might be tired of reading these little reports, but I'm so excited that I had to make a post.
Last Monday, my brother and I were in the mall and as we were coming out of Coles, I heard I Did It For Love coming out of The Garage Clothing Co. store. I told my brother to listen but by then the song was over. It was still a cool moment because it was the first time I heard her playing for the public other than the 4 times I saw Eat You Up on Much Music.
We went down the rest of the mall and on the way back I decided to stop at CD Plus. (I checked for Utada first because the U's were closer, but there was only a divider.) When I got to the B's, I didn't expect to see anything, but there it was, a BoA divider and in front of that divider was a copy of the first album. After I got over the shock of it, I grabbed it as fast as my hands could move. I actually wasn't sure I would buy it because I just ordered Deluxe off the internet but I decided to support her again and buy it.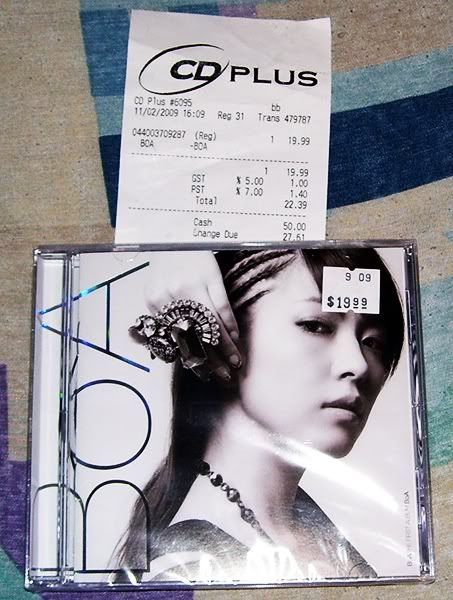 A week later and I still can't believe it. A BoA CD in little Brandon, Manitoba at the Shoppers Mall and my first BoA CD bought in Canada.