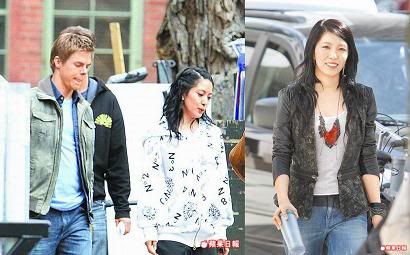 It seems like the staff of "COBU 3D" have been tweeting about the film constantly, but, we're not complaining! There have been a number of pictures and short interactions posted throughout twitter, some regarding our dear BoA.
The films couple choreographers, Napoleon and Tabitha, who tweet under the name
@NAPPYTABS
, posted a behind the scenes image of them in a rather interesting dancing position.
Quote
Our 1st porn??? No... Just me and Tab marking through a romantic dance routine for camera
Is this romantic dance routine set up for BoA's and Derek's characters Aya and Donny?
From information released, it seems that the "Romeo and Juliet" based film has a bit more than dancing, new york city, and drum beating as their differences from Shakespeare's well known play. It has been stated that Aya and Donny will start off by hating each other. As the film progresses, however, they will begin to fall for one another as their families continue to "battle" around them.
Join the exciting conversations regarding BoA's Hollywood debut over on
our forums
.
Please keep checking back for more updates.
Credits:
Site: http://BoAjjang.com
News Writer/Editor: Cori (BoAjjang.com)
News Source: @NAPPYTABS, Apple Daily, Elmari (purederekhough.com), & mistguardianchrome (BoAjjang.com)